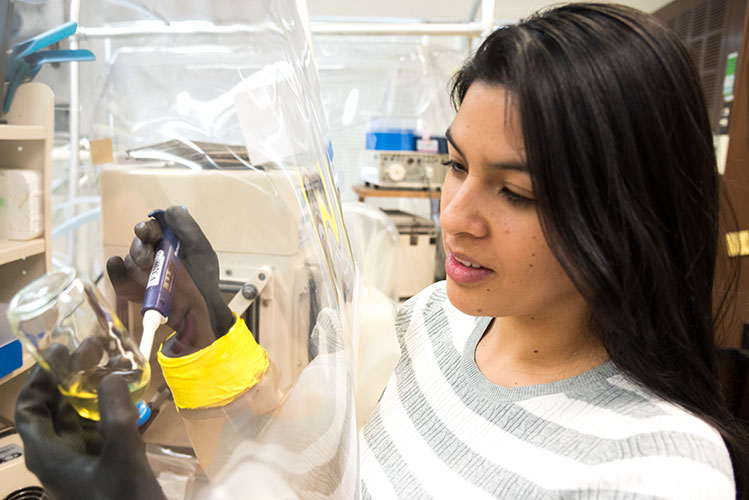 Jackie Mejia, a current trainee in the Biotechnology Training Program (BTP) and Ph.D. student in the Department of Civil and Environmental Engineering, has helped co-found Pathogenomica, a startup that uses next generation DNA sequencing to detect pathogens in waste water and drinking water.
Mejia and three of her colleagues started the company in March and have received a grant from Illumina, a company that makes DNA sequencers. The group is also involved in gBETA, an organization that work to supply startups with funding and networking opportunities.
"No matter what type of company you are, if you deal with waste water, drinking water, or beverages of any kind, pathogens are a big deal," says Mejia, whose major and minor advisors are Matthew Ginder-Vogel and Trina McMahon, respectively. "Unlike other compounds which usually have concentration limits that are deemed safe and permitted, water can only have zero pathogens."
She adds that the technique of using DNA sequencing is a better method for testing for pathogens than previous methods. Methods that require cultures are time consuming and PCR-based techniques require a scientist to know what kind of pathogen he or she is looking for, she says.
"If we use next gen sequencing, we can sequence everything that's in the water sample and detect known microorganisms but also unexpected and unknown ones," she explains. "I think if I wasn't part of BTP and learning so much about patenting, startups, and industry I would have been a bit more skeptical about starting this company. I think just being familiar with these concepts made it easier to say yes, and that was very beneficial."
Mejia started her Ph.D. at UW–Madison in 2012. She started Pathogenomica with three others: Francisco Moya, Veronica Kramm, and Pamela Camejo. Moya and Camejo are both also doctoral students in Civil and Environmental Engineering, and Kramm graduated with a master's degree in Biotechnology from UW–Madison in 2016.