The Biotechnology Training Program congratulates several dedicated women BTP trainers on their recent academic promotions.
Sushmita Roy has been promoted to an associate professor with tenure. She is a faculty member in the Department of Biostatistics and Medical Informatics and the Wisconsin Institute for Discovery. She utilizes computational methods to map cellular networks. Her interests include the evolution of gene regulations, predicting phenotypic response, and more.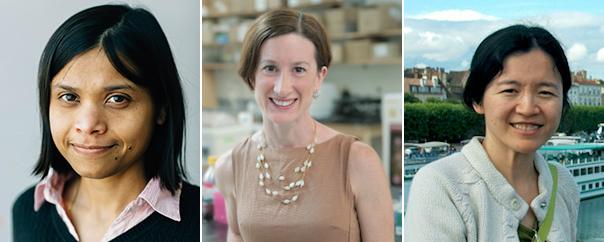 BTP trainers Kristyn Masters and Jade Wang were both promoted to professor. Masters is part of the Department of Biomedical Engineering. Her lab combines biomaterials, tissue engineering, and cellular and molecular biology to create in vitro models of diseased tissues and organs. She is also the faculty director for the Women in Science and Engineering Residential Community at UW­–Madison.
Wang hails from the Department of Bacteriology and studies DNA replication. In particular, she focuses on how cells prevent conflict between transcription and replication and how DNA replication interfaces with the cellular environment, among other areas.
To see a list of BTP trainers, see here.