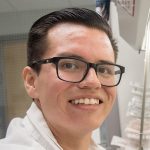 BTP trainee Jose Martinez was selected as a fellow of the National Institutes of Health-funded Yale Ciencia Academy (YCA) for Career Development. Last month, he and fifteen other young science leaders from across the US and Puerto Rico kicked off their year as fellows.
YCA is a year-long program that equips biomedical or health sciences doctoral students from underrepresented backgrounds who are approximately two years away from graduation with the knowledge, skills, and networks they need to find great post-PhD positions. Fellows participate in in-person and virtual activities to become part of a supportive peer community; develop important career planning, mentoring, and scientific and interpersonal communication skills and products; and connect with role models from diverse backgrounds.
To meet the 2022 YCA fellows, click here.