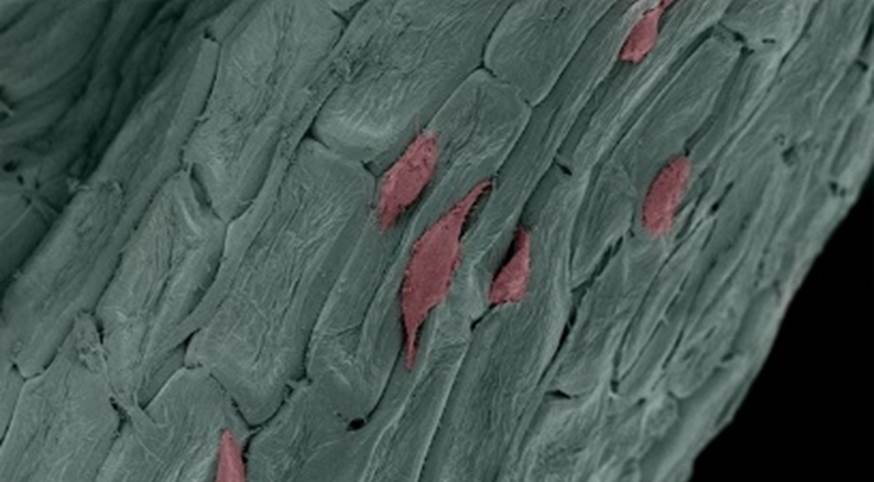 A series of projects aimed at advancing the human-health and economic impact of biomanufacturing is already benefiting from a new University of Wisconsin–Madison institute aimed at making the state a Midwestern hub of the ongoing merger of pharmaceuticals, medical devices and cutting-edge tissue engineering.
The Forward BIO Institute, announced last month, intends to accelerate UW–Madison's existing expertise in the next wave of biomedicine.
William Murphy, a Biotechnology Training Program (BTP) mentor and professor of biomedical engineering and orthopedics at UW–Madison, directs the Institute.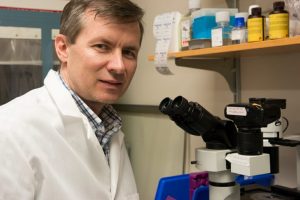 Three associate directors have been named to the Institute. Sean Palecek, a professor of chemical and biological engineering, is director of research innovation. "Sean is a leader in biomanufacturing research who brings world-leading scientific insight in new technology development," Murphy says.
Kris Saha, a BTP mentor and professor of biomedical engineering, is director of educational innovation. "Kris is pioneering an education initiative at the university that teaches not just technical and scientific skills but also business development skills to students throughout campus," Murphy says. "This new position gives him a role that allows him to continue to innovate in this essential realm."
Christian Capitini, a professor of pediatrics, is director of clinical innovation. "Christian has been a pioneer in developing groundbreaking cell therapies to treat children with the most serious diseases. His breadth of experience and creative insights make him the ideal person to lead the Institute's clinical innovation efforts," Murphy says.
Several projects at the front edge of medicine are now underway at the Institute. In all cases, Murphy says, the goal is not science so much as engineering: to create "disruptive technologies" with immediate relevance to patients, and to biohealth companies.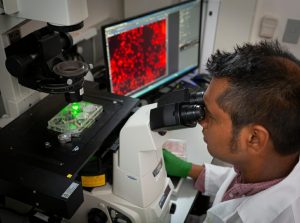 "These are all about solving problems that are well understood in the industry and in the clinic. That's what we want to identify and solve," Murphy explains. "Rather than doing science projects for their own sake, we are determined to be very clearly focused on clinical and industry needs, so we can develop technologies with our eyes open."
The first round of projects at the Institute include:
A technique to manufacture surgical dressing from plants, directed by UW–Madison pediatric surgeon Hau Le. The idea is to remove most of the plant components from leaves, leaving a fibrous structure that "turns out to be really favorable to promote wound healing," says Murphy. In some cases, the structure will naturally biodegrade as the wound heals.
In his lab in the Wisconsin Institutes for Medical Research, Murphy has started manufacturing 3-D human brain tissue. "The novelty that makes it particularly relevant to industry is that this will model a diseased brain," he says. "The initial tissues will contain tumors. We expect this model to be used to understand how drug therapies inhibit the tumor as it takes root and grows in the brain. Rodent experiments have only so much to teach us about tumor dynamics."
Another project focuses on partial thickness cornea transplants, which are used to repair diseased tissue that clouds light entering the eye. Neal Barney, a UW–Madison ophthalmologist, is developing a high-tech, synthetic carrier to deliver a thin cadaver-derived corneal tissue during surgery. "These ultra-thin tissues can fold up like wet tissue paper during surgery," Murphy says. "The goal is to develop and manufacture a membrane to transport this tissue to the patient and hold it in place until it grafts, and then dissolve over time."
An earlier-stage project aims to deliver biological treatments to tumors. "We have a technology that can stabilize biologics, keep them from moving away from the site and help them remain active," Murphy says. "We're working to develop it for intra-tumor injection of proteins, nucleic acids and vaccines. Again, this is a platform technology with broad applicability far beyond cancer treatment."
Story by David Tenenbaum for the UW–Madison news site.