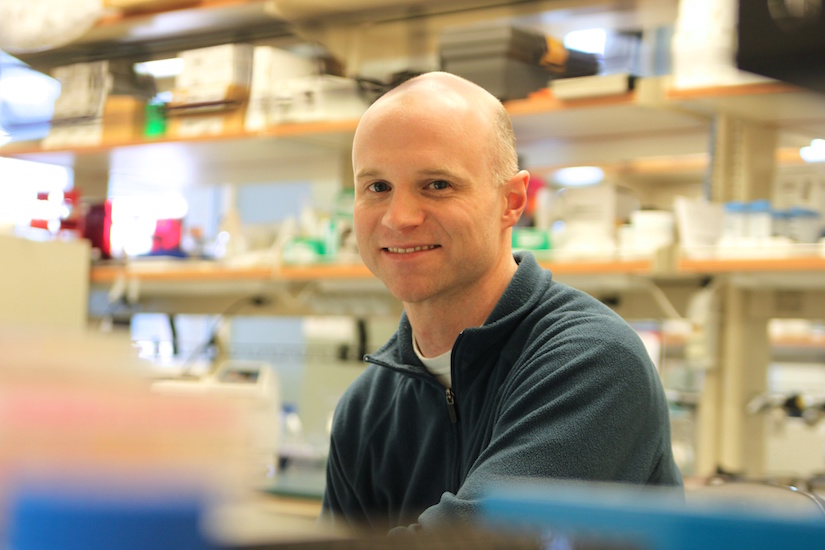 As an undergraduate student majoring in physics at Illinois Wesleyan University, William Murphy took exactly one biology course: Biology 101.
Two decades later, he's built a career around creating what he calls "bio-inspired" materials such as tissues for drug modeling and bone regeneration. Murphy, a Biotechnology Training Program (BTP) mentor and the Harvey D. Spangler Professor of biomedical engineering and orthopedics at the University of Wisconsin-Madison, looks to nature for insights on his designs.
"I didn't start doing anything biomedical until I was in graduate school," he says. "And so I think that order of things—starting in physics and materials science and then encountering biology—was helpful. Biology became an inspiration for how I wanted to build materials."
That approach has led to four spinoff companies and 21 issued United States patents (with 29 more pending). And it's impressed the National Academy of Inventors, which named Murphy to its 2018 class of fellows.
"Being able to discover new things about the way the world works that no one has ever known before is just thrilling," he says. "In addition to that, the challenge of taking a discovery of something new and then turning it into something that can have a real impact on people is really exciting. It can be a long, arduous process, but I think that challenge is exciting as well."
The fellowship program honors scientists and engineers whose inventions reach industry and benefit society at large, a description that aligns with Murphy's personal motivations. He says his interest in how materials could help people is what drew him to the biomedical engineering field in the first place.
"I've always been interested in tangible outcomes, in what real impact can come from research advances," he says.
Over the course of his career, Murphy has developed methods for more safely and reliably growing stem cells for testing drugs or creating replacement tissue. He's devised 3D-printed implants for bone regeneration. His work on coatings for medical devices—screening for those that promote positive outcomes like drug delivery or tissue growth while avoiding pitfalls such as infection and inflammation—should now reach clinical products within a year after two decades of groundwork.
In more recently launched endeavors, Murphy has begun building materials to deliver messenger RNA to more effectively activate genes, an approach that holds promise for treating wounds by transforming blood clots or bone marrow clots into functional tissue. He's also growing micro-scale human brain and liver tissues from stem cells to study the spread of melanoma, which tends to metastasize to those two organs. This kind of tissue-on-a-chip technique could lead to drug testing that's personalized to an individual patient's disease.
And, true to his "bio-inspired" philosophy, Murphy is also using plant structures—stripped of all cells beyond cellulose—as both surfaces on which to grow stem cells and as scaffolds that could function in medical devices.
"I think there are quite a lot of new directions that will stem from that," he says.
These days, Murphy is also helping other UW-Madison inventors push their work beyond campus as director of the nascent Forward BIO Institute. The institute is the technology and workforce development component of the Forward BIO Initiative, a collaboration between the university, the state of Wisconsin and the biomanufacturing industry that launched in September 2018.
"Our work can't have the kind of impact we want it to have if it doesn't leave our lab and get out into industry. We simply don't have the ability to disseminate the technology as widely as a company can," says Murphy, who is also the biomanufacturing lead in the Grainger Institute for Engineering at UW-Madison. "If we can provide a conduit that helps those faculty and students to enable their technologies to have the impact that they intend, then that's incredibly satisfying, and it really amplifies the total impact of every discovery."