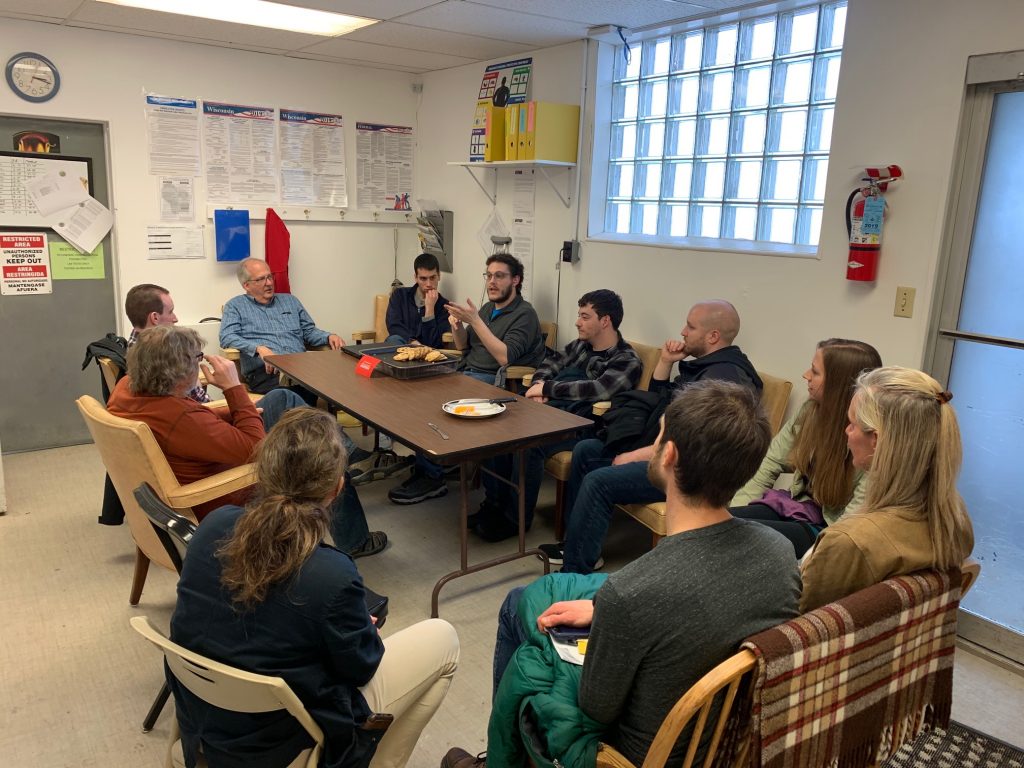 To learn about industrial biotechnology's role in the cheese and dairy industry, Ph.D. trainees in the UW–Madison Biotechnology Training Program (BTP) recently traveled to Cedar Grove Cheese located in Plain, Wisc. At the cheese factory BTP trainees learned how cheese is made and sat down for a conversation with owner Bob Wills to discuss how biotechnology impacts his current business, gives him insights into the future of cheesemaking, and is used to help the factory deal with its waste water.
First, the students learned about the important role of bacterial cultures in cheesemaking. Wills purchases different cultures for the many types of cheese the factory produces. Each culture imparts flavor, breaks down lactose, and produces gas bubbles. For example, the cultures used in Swiss cheese produce a lot of gas bubbles, giving that cheese its characteristic holes.
"It used to be that if you bought a cheesemaking plant, you bought its cultures, but cultures aren't kept like that anymore," Wills said to the group. "We are able to order specific ones for our needs. We really need diversity to make different and unique cheese."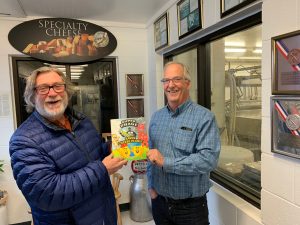 An issue facing the use of bacteria in cheesemaking is phage, which are viruses that kill bacteria. The trainees learned how phages — which can cause problems in their own research on campus if they work with bacteria — also impact cheese. Cheesemakers have learned to have redundancy in their cultures and swap them out frequently to avoid the devastating effects of phages. Some of the students commented that engineering phage-resistant bacteria might be a way to help this problem.
"I was surprised to learn that there is an entire industry that prepares the bacterial cultures and supplies them to cheesemakers," BTP trainee Benjamin Gastfriend said of the trip. "I also learned about the complexity involved in claiming a cheese is free from genetically modified organisms. We discussed whether milk from animals fed a GMO crop could yield GMO-free cheese."
The possibilities of biotechnology changing cheesemaking are immense. Across the globe, artisan cheeses are aided by unique local bacteria found where they are made and aged, sometimes in remote caves. Wills told the BTP trainees about how some cheesemakers are reverse engineering cheeses, using DNA and metagenome testing to learn about the bacteria that make artisan cheese possible so the cheese can be replicated elsewhere.
"Additionally, if a cheese is developing a characteristic we don't like or find worrying, we'll send it to UW for analysis and they send a solution for the problem and give ways to tweak the process," Wills says. "Food safety and pathogens are huge. We have pasteurization and multiple other methods, such as competitive cultures and pressure, to kill bad bacteria. Both big and small factories have to be careful about pathogenic bacteria. Some researchers are able to characterize the microbial community at each plant, which can serve as a kind of finger print that can be used to find the origins of contamination."
The group also discussed a worry on the minds of many of those in the dairy and cheese industries: the rise of non-dairy milk and cheese alternatives and the burgeoning ability to synthesize natural products in the laboratory. While a good alternative for those with a lactose intolerance, other milk sources could hurt the dairy industry's bottom line, and Wills said that it's likely industrial biotechnology will be needed to help cheesemakers adapt.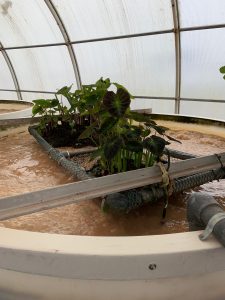 "The trip was interesting to me because it was an opportunity to see how industry approaches scientific questions and issues," said Nate Kuch, another BTP trainee on the trip. "Such as the focus on detailed observational studies, like what cheese results from a certain pH at different parts of the cheesemaking process."
To finish up the trip, Wills showed the group "The Living Machine." Cheesemaking produces a lot of wastewater that contains milk solids and cleaning chemicals. This water can harm the watershed so Cedar Grove created The Living Machine to help naturally clean wastewater. Wills explained that wastewater from cheese making contains too high a concentration of nutrients like phosphorus to be released into the watershed but too little to be used as fertilizer — so it must be treated somehow.
"Biology has a knack for making a lot of dilute phosphorus," Brian Fox, BTP Director and biochemistry professor, said to the group. "So, this is something Bob has developed to help alleviate this problem by harnessing natural processes."
A series of tanks handle an average of 7,000 gallons of this waste water per day. In a three- to four-day journey, the waste water goes through closed aerobic tanks with bacteria and other organisms that break down residues and particles in the water. Other tanks contain plants that use the excess nutrients to grow and also facilitate more microbial activity to clean the water. The end result is much cleaner water with less solids, nitrogen, and phosphorus that can be safely released.
"I tend to think routinely of the biomedical or biofuel applications of biotechnology, but not much beyond that," Gastfriend said. "This trip broadened my exposure to current challenges in food science applications of biotechnology."