When Maya Venkataraman, a third-year chemical and biological engineering graduate student in the Biotechnology Training Program (BTP), started grad school, she knew she wanted to study something related to synthetic biology, a field that combines elements of engineering, mathematics, chemistry, and biology to create new systems from known biological components.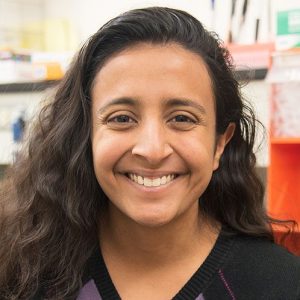 But apart from that?
"I'm trying to figure it out," Venkataraman laughs, adding, "I've spent my first two years of grad school doing a lot of troubleshooting, since I'm working with an organism that's new to our lab."
A three-month internship with an alum of her research lab and the BTP may help Venkataraman identify solutions for her research and career plans.
Bacteria in soil can fertilize plants by creating sources of nitrogen that plants then use to grow. Agronomy professor Jean-Michel Ané, Venkataraman's collaborator, and biochemistry assistant professor Ophelia Venturelli, a member of Venkataraman's research committee, are studying how and why some nitrogen-producing bacteria fertilize plants by affixing themselves to plant roots.
"As an engineer, I'm looking at that and saying, what are the opportunities for improvement?" said Venkataraman. "I want to take some bacteria that are great at nitrogen fixation but don't naturally associate with plants and get these self-sustaining organisms to form symbiotic relationships with crops."
Venkataraman spent the first two years of her PhD collecting reliable and reproducible preliminary data to pursue her idea, so it may seem like her internship couldn't be coming at a more inopportune time. But Venkataraman says her research can only benefit.
"An internship is a good opportunity to learn a new set of skills and meet a new set of people. I'm also rounding out my personal development in a way that's pretty structured," she said.
Venkataraman's internship supervisor Gina Neumann, a senior scientific manager of research and development at Benson Hill who is a BTP and Pfleger Lab alum, agrees.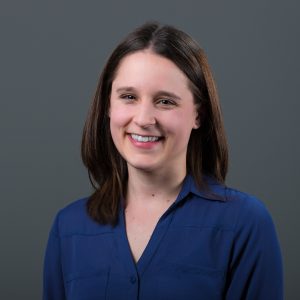 "The opportunity to experience a new environment where you're still applying your scientific skillset but to a new situation and project" is invaluable, Neumann said.
Neumann works at Benson Hill, a food technology company that uses a variety of approaches to make healthier, tastier and more sustainable food. Though their time in the BTP and the Pfleger Lab did not overlap, Venkataraman's and Neumann's PhD research adviser Brian Pfleger introduced the two via email when Venkataraman was looking for an internship.
"I think it's super fun to bring in new people with creative ideas," Neumann said. "I think it's great for Maya, it's great for me, that we can test out some of our ideas on how we can make genome editing better."
While Benson Hill interns readily apply their research skills to solve problems, run experiments and collect data, working in a fast-paced industry environment challenges some interns. Neumann said that while she was a Benson Hill intern, she developed time management and goal-setting skills that she brought back to her PhD research at UW-Madison.
During her own internship, Venkataraman will work with Neumann and plant scientists on projects that will help Benson Hill edit plant genomes more efficiently.
Both Venkataraman and Neumann credit the BTP with some of their successes to date.
"I kind of already knew I wanted to go into industry [when I entered grad school]," said Neumann. "I was interested in Madison because of the BTP and its internship requirement, and through the internship, my interest in industry was confirmed."
"UW-Madison is a really great campus to investigate the problems I'm interested in. Because Gina was in the BTP, she really knows how the program and internship works. I'm glad this internship with her at Benson Hill worked out," Venkataraman said.
Story by Catherine Steffel, PhD.