Africa has the lowest COVID-19 vaccination rate of any continent. Less than one third of the population has received at least one dose of a COVID-19 vaccine to date, compared to approximately 70% worldwide.
In an effort to reduce vaccine inequity, in June 2021 the World Health Organization (WHO) announced the creation of a technology transfer hub that would build COVID-19 mRNA vaccine production capacity in low- and middle-income countries. Hub members included a pharmaceutical company in Cape Town called Biovac, a network of universities, the Africa Centers for Disease Control and Prevention, and Afrigen Biologics and Vaccines — the first vaccine and biologics biotechnology company on the African continent.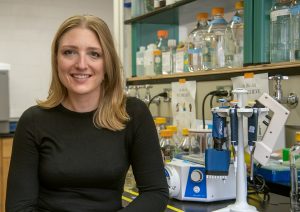 Thousands of miles away, Liz Appelt was trying to get to South Africa, where Afrigen is located. She had first heard about Afrigen during a Biotechnology Training Program (BTP) seminar given by Erik Iverson, CEO of the Wisconsin Alumni Research Foundation (WARF) and a founder and board member of Afrigen. The company's mission — to develop and produce vaccines for malaria, tuberculosis, and HIV on the continent — piqued her interest.
Appelt, now a fourth-year Ph.D. candidate in chemical and biological engineering, had long wanted to tie together her interests in global health and engineering. An internship at Afrigen seemed like the perfect opportunity, but travel restrictions and bureaucratic hurdles repeatedly postponed that opportunity. When her internship fell into place in summer 2022, Appelt found herself quickly immersed in Afrigen's COVID-19 vaccine projects.
Appelt learned that while Afrigen had already announced their own version of a Moderna-like COVID-19 mRNA vaccine, technology transfer hadn't happened as intended and Afrigen still had to abide by the WHO's original timeline. That meant Afrigen's approximately 40 employees had only a few more months to get their vaccine ready for animal and clinical trials.
Afrigen's small team worked quickly and in parallel to build and validate a GMP (good manufacturing practices) facility; perform R&D of a liposome-encapsulated mRNA vaccine; receive and validate instruments; and develop and validate assays. The rapid pace of COVID-19 mRNA vaccine and facilities development at Afrigen was underscored by the evolving pandemic and challenges of building biotechnology infrastructure in South Africa, a country that's geographically distant from many technology transfer partners, Appelt says. Much-needed, highly specialized instruments, and sometimes commonly used items, would take months to arrive, while others would arrive broken after traveling thousands of miles.
"That was just really devastating," Appelt says. "South Africa has really incredible scientists and biomedical engineers, but suppliers aren't nearby and resources aren't readily available. The lead times and getting the materials and the products and the instruments you need say, in the United States, isn't anything compared to what we were dealing with at Afrigen."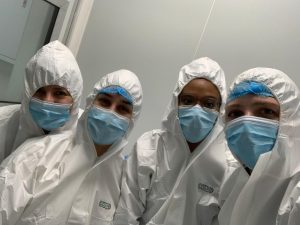 Appelt, who had five years of industry experience under her belt from working at a biotechnology startup after finishing her undergraduate degree at Northwestern University, says that she was primed for the work. In three months, she helped start Afrigen's analytical development group, learned the company's techniques for mRNA in vitro transcription and liposome encapsulation, worked on documentation and compliance with the South African Health Products Regulatory Authority (similar to the FDA in the U.S.), and helped validate the GMP facility.
Now back in the U.S., Appelt is once again thinking about doing research at a small biotechnology company after she wraps up her Ph.D. research.
"I had asked the question, 'How can I put engineering in a global health perspective?'," Appelt says. "This internship made me realize that there is a career path for me in bridging chemical engineering and global health."
Written by Catherine Steffel, Ph.D. Afrigen's COVID-19 vaccine is now in animal studies and will enter human clinical trials in 2023.